Thank You
"Thank You" neon lettering design for co-authors Dydia DeLyser and Paul Greenstein, used to light up the author photo on the "Acknowledgements" page of their book, Neon: A Light History.
A&Q
"A" is for Audrey, and "Q" is for Quin, two sisters who got custom-designed neon signs for their birthdays, at the request of their Dad. Super fun project for "bedroom neon" designs, what a great gift idea! Bending by Peter Thanh Cao at Artico Lite here in Portland. "A" is made with Electric Blue tubing, made for standing mount; "Q" is in Turquoise tubing, made for wall mount.
Turn! Turn! Turn!

Scott, the owner of Turn! Turn! Turn! — a bar, music venue, and record shop in Portland, Oregon — asked me to design a neon sign for his window. Rather than use the existing logo he wanted something fresh. I designed this sign to be a tad fancy but not snooty, with a hint of classic beer label design (beer is Turn!'s specialty). A tight budget prevented us from using the word in triplicate, so my solution was to underline the word with 3 lines, and limit the sign to 3 colors. Tube-bending by the amazing Peter Thanh Cao at Artico Lite.
More images and background on the project here.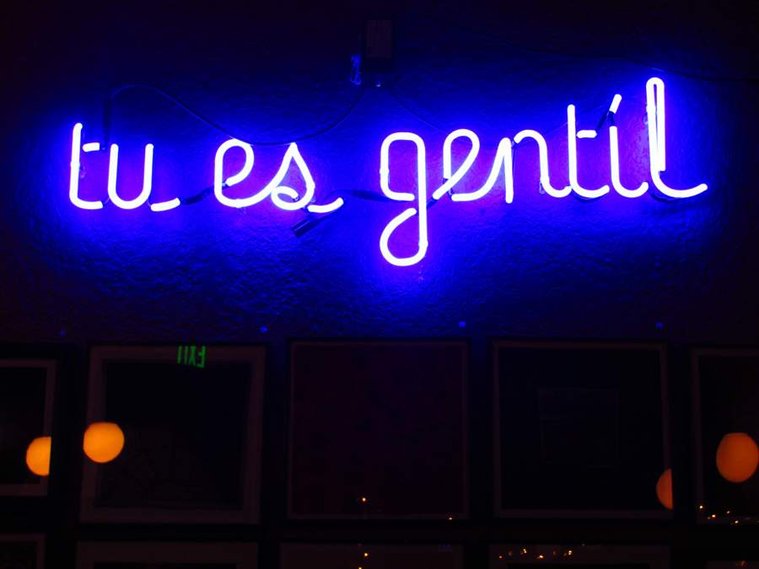 Tu es gentil

This sign is a personal art piece I created for my solo exhibition at Portland bar and music venue Turn! Turn! Turn! in 2014. "Tu es gentil" is a French phrase which translates to: you are kind (helpful), used to convey gratitude or sarcasm. This is custom-lettered neon, designed by me and crafted by master neon bender Peter Thanh Cao at Artico Lite. The Tu Es Gentil sign also appeared at Portland's inaugural Winter Light Festival in February 2016, along the Willamette River at OMSI.
More images and background on the sign here.